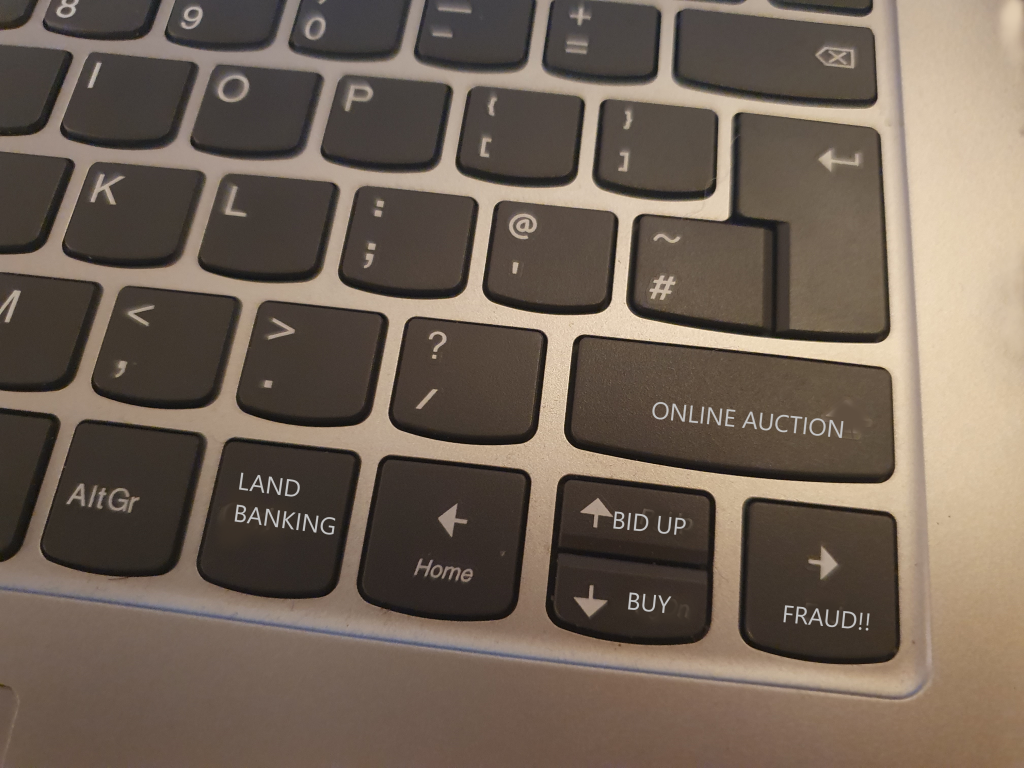 Let's face it, many people are tempted to become fully-fledged property developers, and a cheap way in is to buy that cheap plot of land for a fiver that will one day go up in value and make your place in the pantheon of property millionaires. Maybe you can picture yourself riding around in that brand new Roller, stroking your impossibly pampered Pomeranian, your investment acumen lauded by all who meet you.
Except often that's not the way it works, unfortunately.
Possibly prompted by the Coronavirus outbreak, it appears that "land banking" schemes – and the failure to regulate them properly – have made an unwelcome reappearance in the UK, and auction houses may be in the forefront of pushing such schemes to the innocent public, particularly online auctions.
Such schemes became prevalent in the late 1990s and early 2000's and at the time were referred to Trading Standards for prosecution.
Land banking schemes are essentially schemes where with the aid of an agent or auction house small plots of land are advertised for sale, very often on the basis that they have potential development value.
Usually, there is no development value and almost always no possibility of obtaining development consents.
The technical arguments put forward at the time such schemes came to the fore were that many of these schemes were governed by the provisions of the Financial Services and Markets Act 2000, which made them Joint Investment Schemes . and therefore subject to the provisions of the then Financial Services Authority (now the Financial Conduct Authority).
Where such properties are purchased at auction buyers are particularly vulnerable as they are often asked to pay substantial sums, or at least a substantial part of the purchase price, in advance as part of the auction particulars and requirements. An unscrupulous auction house will say it is just doing its job offering something to the public – there is no restriction on offering such plots – and its each buyers watch. But really, they know full well that the public are vulnerable and may even be aware that it is a scam in some cases..
Whilst there will be buyers who are happy to purchase a small plot because of its sentimental value, there will also be a similar number of buyers at least who purchase sometimes based on a misrepresentation, believing that the plots will have some planning value in time to come. This is particularly the case where purchases are prompted by online advertising.
Auction buyers are also vulnerable because they quite possibly fall within the category of commercial buyers and therefore outside of the scope of traditional consumer protections.
Very often the sums paid are so minimal that it is not worth the risk to a buyer to pursue the seller. in particular legal fees, may be prohibitive as there is no point in spending money pursuing a sale entity which may become insolvent at a moments notice, or very has no assets of any value, or will argue that the buyer should have taken steps to research the matter.
Very often buyers also fail to read properly the terms and conditions which may include references to additional fees for the auction house, payment of the sellers fees and commission and issues relating to VAT.
So tread carefully when buying such properties particularly through auction houses. There are established auction houses who would not get involved in Land Banking and the integrity of the auction house is all. Many online auction sites have no real history and many people are afraid to bring any matters to bear against an agent who, after all, will say they are just the agent of the seller – go complain to the seller.
Use a solicitor to vet the auction pack if you can. Many people avoid that on the basis that it can cost as much to vet the pack in comparison to the purchase price– essentially you are asking the solicitor to do most that they would on a normal purchase – just in a very short time – so logically you should expect fees to be greater. Often solicitors are restricted in what they can do in any event by the information set out in the auction particulars. This is why often solicitors charge more for dealing with an auction purchase than a domestic residential purchase which at present is possibly one of the cheapest solicitors services which can be acquired by members of the public. However getting a solicitor to vet the pack can save you thousands of pounds – which you can put to that lovely Roller you were dreaming about.
For further reading:-
Link: https://www.fca.org.uk/scamsmart/land-banking-investment-scams