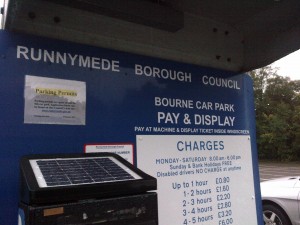 Chris Christofi found himself having to be at court to represent a client when his Parking Appeal Hearing against Runnymede Councils £50 parking ticket for "failure to display" was due for hearing recently.
Chris, who had a valid annual parking ticket for parking at Virginia Water Bourne Park Station car park, had been ticketed by the local authority officers in January.
Runnymede chose to ticket despite knowing at the time that the vehicle had a valid annual pass. On the day in question, the paper pass disappeared into the gap between the car screen and the dashboard (and is still there as far as Chris is aware).
Appealing to the local authority parking bods made no difference– they went through the usual box ticking exercise to conclude a rejection, so Chris asked to attend before the Parking Appeals Tribunal.
Chris wanted to argue that Runnymede had failed to act in accordance with directives given by the Department of Transport to act objectively and proportionally to revoke the ticket. In its Operational Guidance to Local Authorities Parking Policy and Enforcement Traffic Management Act 2004  requires local authorities to  exercise discretion to set aside tickets where mitigation exists ( and of course there is no better mitigation than "I already paid for one"). A local authority must act objectively in doing so.
Moreover Chris wanted to rely on a public policy argument which was similar to that which led the government to conclude that there is no reason for tax discs to be displayed any longer because a parking officer can access information on his handheld computer to discover whether a vehicle is taxed or not. Runnymede chose to ticket despite being able to do that.
Alas Chris had to choose between going to the parking hearing or attending for his client, and, of course, the interests of the client must always come first in such circumstances.  A request to the  Parking Adjudicator to adjourn seemed to yield no result – the adjudicator concluding that £50 was merely a "modest" sum which did not merit an adjournment. (Chris did ponder  suggesting that the adjudicator pay the fine).
The matter is under appeal but in the meantime some interesting facts were disclosed. In their evidence Runnymede council disclosed that they had issued 3229 tickets of which only 9 (yes- you read that correctly) were taken by motorists to the Traffic Penalty Tribunal.
Chris advises that the merest sniff of a defence should mean that motorists insist on getting themselves before the adjudicator – the more cases that go there the less trigger happy the council will be issuing tickets.
In Chris's case Runnymede were represented by one of their employees at the hearing. Chris does not know how much that cost Runnymede, but given the paperwork generated by them for preparation and attendance, it probably cost a lot more than, ahem,  a "modest "sum".